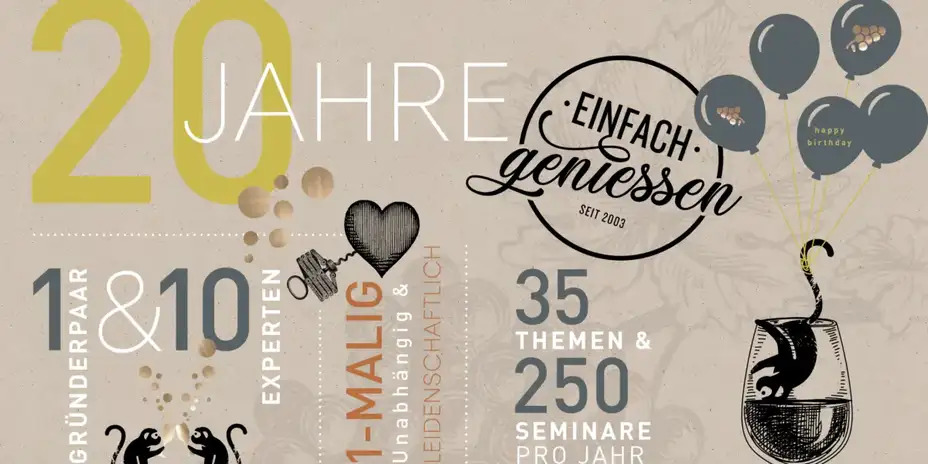 Two Decades of Unique Wine & Champagner Seminars and Experiences
Congratulations to our esteemed client, einfach geniessen! They've reached the 20-year milestone in wine & champagne seminars and sales. At Pegotec, we share their joy. For over 15 years, we've witnessed their growth, perseverance, and passion. It's a success story we're proud to be a part of. We are celebrating with einfach geniessen!
Fostering Munich's Wine-Loving Community – Celebrating einfach geniessen
einfach geniessen offers more than just wine & champagne seminars. It's a hub for wine lovers in the heart of Munich. Here, connoisseurs, enthusiasts, and beginners gather. They taste, learn, and appreciate the art of vinification. einfach geniessen caters to all, from the novice seeking wine basics to the epicure exploring sophisticated pairings like 'Wine and Chocolate.'
A Salute to Leadership: Bettina Hofmann and Bernhard Meßmer
einfach geniessen's success owes much to the leadership of Bettina Hofmann and Bernhard Meßmer. Under their guidance, einfach geniessen has become a beloved name for Munich's wine & champagne lovers. Their entrepreneurial spirit, wine knowledge, and dedication to customer service deserve applause. As the founder, Bernhard's touch on the wine seminars is inimitable. He's made them an extraordinary experience for all attendees.
Fine Wine & Champagne Accessible to All: einfachweinkaufen.de
einfach geniessen's online wine shop, einfachweinkaufen.de, is another triumph. It shows their commitment to making fine wine accessible. Their curated selection of wines from various regions caters to every palate, occasion, and price point.
Wine and Chocolate Seminar: A Masterclass in Wine Pairing
einfach geniessen's "Wine and Chocolate" seminar stands out among many offerings. It's a journey that combines the art of wine tasting with the indulgence of chocolate. Their "Champagne Seminars" are equally engaging, bubbling with knowledge and delight. Meanwhile, their hands-on Wine Workshops have gifted many their first deep understanding of this magnificent libation.
Onward and Upward: Future Wine & Champagne Education at einfach geniessen
In the course of the past 20 years, einfach geniessen has fundamentally reshaped the landscape of wine seminars and sales. They've gone above and beyond to demonstrate that wine appreciation extends beyond mere consumption, blossoming into a communal learning experience. As we cast our gaze forward, it's clear that the future is indeed bright. With an unyielding promise to deliver more seminars and workshops and a richer wine portfolio, Einfach Geniessen continues to paint a good picture of the coming days.
Pegotec Salutes einfach geniessen: A Partnership for the Ages
As we toast to einfach geniessen's achievements, we at Pegotec feel proud. We cherish our partnership and are eager to join einfach geniessen in future endeavors. Here's to hoping the next 20 years are even more fruitful and vibrant, just like a well-aged wine.
In conclusion, we raise our glasses to einfach geniessen, Bettina Hofmann, and Bernhard Meßmer. Their passion is inspiring, their dedication motivational, and their success a source of pride. To many more years of shared stories, remarkable achievements, and the incredible journey of wine appreciation!
Celebrating einfach geniessen: Herzlichen Glückwunsch zum Jubiläum!