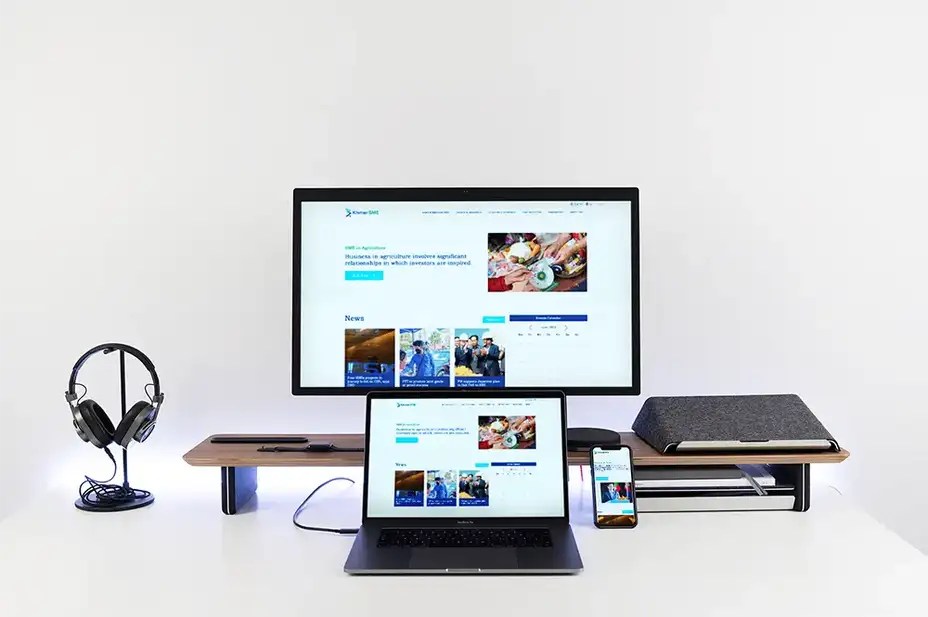 The KhmerSME website, developed by Pegotec, was recently launched in partnership with GIZ and the Cambodian Ministry of Industry, Science, Technology, and Innovation (MISTI). This article outlines the event, emphasizing the critical contributions of Pegotec, GIZ, and MISTI. We will also see how KhmerSME aims to empower Cambodian SMEs and its transformative potential.
Launch Ceremony: Connecting Cambodian SMEs
The KhmerSME website launch was an online ceremony, aligning with Covid-19 guidelines. Esteemed personalities, officials, and representatives from various organizations attended. His Excellency Mr. Cham Prasidh, Cambodia's Senior Minister of Industry, Science, Technology, and Innovation, presided over the event. The ceremony, featuring inspiring speeches and discussions, celebrated KhmerSME's role in aiding Cambodian SMEs' growth.
Welcoming Success and Recognition
Setting an optimistic tone for the launch ceremony, H.E. Hort Pheng, Director General of MISTI's General Department of SME & Handicrafts, and Mr. Frank Jattke, ASEAN Team Leader of GIZ Cambodia, expressed their sincere appreciation for Pegotec's exceptional achievement in developing the KhmerSME website. With words of recognition and gratitude, they further emphasized the profound impact of KhmerSME. They highlighted its role in facilitating business growth, fostering innovation, and creating valuable opportunities for the vibrant community of Cambodian enterprises.
Introducing KhmerSME: Comprehensive Features and Advantages
Mr. Pedro Gorrin Diaz, the esteemed Chief Technology Officer (CTO) of Pegotec, took the stage to present the groundbreaking features and advantages of the KhmerSME platform. With a seamless user interface and comprehensive functionality, KhmerSME offers a wide range of sections, such as Starting a Business, Laws and Regulations, Events, Training, Innovation, and more. These sections provide SMEs with valuable resources, guidance, and networking opportunities within the KhmerSME ecosystem. Notably, KhmerSME's bilingual nature, supporting both Khmer and English languages, ensures accessibility and inclusivity for SMEs across Cambodia. Mr. Pedro Gorrin Diaz expressed his sincere gratitude to GIZ and the MISTI team for their unwavering support and collaboration in making KhmerSME a reality.
Pegotec's Role in Designing and Developing the KhmerSME Platform
Pegotec played a crucial role in creating KhmerSME. First, their expertise was displayed in creating the logo, designed with deep insight into the Cambodian SME sector. As a result, this produced a strong visual identity for KhmerSME. Secondly, they designed the website with a strong emphasis on user-friendliness. It is easy to navigate, making it approachable for all users. Furthermore, the CMS was developed on WordPress. Because of its power and flexibility, it's easy for administrators to manage. Lastly, Pegotec's efforts show a solid
commitment to helping Cambodian SMEs. Consequently, this solidifies their role as a vital digital solution provider.
Closing Remarks: Empowering Cambodian SMEs for Success
In his closing remarks, H.E. Senior Minister Cham Prasidh emphasized the transformative potential of KhmerSME. Additionally, he highlighted its role in empowering Cambodian SMEs to thrive amidst challenges. He provided valuable insights, recommendations, and strategies for leveraging the platform effectively. Furthermore, he emphasized the importance of KhmerSME in facilitating economic activities, fostering innovation, and nurturing a supportive business ecosystem. The Senior Minister sincerely appreciated GIZ, Pegotec, and all stakeholders involved in bringing KhmerSME to fruition. He recognized their exceptional contributions to revolutionizing and empowering Cambodian SMEs.